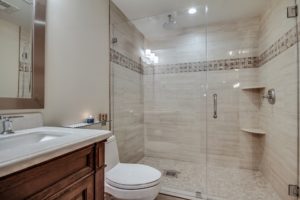 Did you know that the bathroom is the second most remodeled room in the home? At DES Home Renovations, we are ready to help you remodel your bathroom, no matter what you are looking for. Whether you choose to go all out and completely demo and remodel the space, or pick a budget-conscious choice like updating your shower and vanity, we are here to provide you with professional support and advice.
Your bathroom should be a space for you to relax and unwind. We can even provide you with small bathroom remodeling ideas, if you have a bathroom that feels cramped or you just do not have a lot of floor space to work with. If you are not sure what you are looking for, we can provide you with bathroom remodeling ideas that will suit your budget and personal style, from modern bathroom ideas to bathroom remodeling ideas for older homes.
DES Home Renovations provides bathroom remodeling services to the following local areas:
Custom Bathroom Remodeling Services
Our expert team can provide you with a variety of bathroom design ideas and bathroom floor plans that will help you make the most of your space. Our bathroom remodeling services include:
Bathroom additions: Add an extra bathroom to your home for additional convenience and a higher resale value on your property. Great for guest rooms or master suites!
Bathroom countertops: We install a variety of countertops, including Formica, Corian, granite, marble, quartz, concrete, reclaimed wood and stainless steel countertops, and can help you settle on the type of countertop you are looking for or custom-order a countertop for you.
Bathroom medicine cabinets: You can get a surface-mounted or recessed medicine cabinet and we can show you different styles for your space.
Bathroom plumbing fixtures: We install a variety of bathroom plumbing fixtures, including toilets, sinks, tubs, jetted whirlpools, whirlpools, Jacuzzis, undermount sinks, showers, walk-in showers, shower doors and faucets.
Bathroom vanities: Enjoy your own special bathroom vanity, with Cherrywood, Hickory, Maple, Oak, Poplar, MDF or laminated cabinetry.
Ceramic and natural stone tile installation: Tile adds a modern look to your bathroom while keeping it easy to clean. We can even help you customize a bathroom tile design for your shower.
Crown molding: Add visual interest and style to your bathroom with a variety of crown molding options.
Design Build bathrooms: We design your bathroom for you, with your input, and then construct it for you as well!
Doors and windows: If you need new doors or windows to fit your new bathroom, we can install those.
Fireplaces: For an added touch of class, consider installing a fireplace in your bathroom. We can walk you through the different options if you decide that's something you want to do.
Flooring: You can get a variety of different floors with us, including vinyl, ceramic, marble, granite and hardwood.
Hall bathroom remodeling: Make the most of your small space with expert remodeling suggestions to give it a brighter, larger feeling.
Light fixtures and outlets: Enjoy a variety of lighting and outlet options for your bathroom remodel, including recessed lighting, vanity lights, track lighting, exhaust fans and GFCI receptacles.
Master bathroom remodeling: Your master bathroom should be your oasis. Make sure it is everything you dreamed it would be and more with a professional design and expert remodeling.
Outdoor bathrooms: Experience the novel luxury of an outdoor bathroom! Ask us about this unique, modern way to enjoy your outdoor space.
Painting: Get a bold accent wall or just enjoy a fresh coat of paint! We customize your paint color to fit your bathroom design and unique style.
Powder rooms: If you have a half bath that you want to jazz up, consider creating a powder room. Whether you choose vivid paint, bright tile or stand out wallpaper, these small bathrooms are sure to have a big impact on your guests.
Radiant floor heating: Never worry again about stepping out of a nice, warm bath onto a cold floor! We can install beautiful, convenient radiant flooring for your new bathroom.
Shower niche: Add extra storage space to your shower while keeping the design beautiful with a functional, classy shower niche.
Premier Bathroom Remodeling Services
When you call DES Home Renovations for your complimentary bathroom remodeling consultation, you are under no obligation or commitment to choose us. We are happy to provide you with advice and answer all of your questions, whether you are ready to remodel the bathroom in your New Jersey home or are just starting to consider the idea and want more information on the renovation process. You will receive help with the various ways to remodel your bathroom, and our expert team will advise you as to which method is best for your price range, your style and your family's needs.
If you do choose to use DES Home Renovations for your bathroom renovation, you receive an in-depth quote from one of our designers. We give you face-to-face advice for your project, and the quote you receive will be a fixed price – you never have to worry about surprises or hidden fees. We keep in constant communication with you so that you always know what is going on with your project, how far along the job is and any information you need to know about the renovation process.
We work with you to improve your home's value and make sure your bathroom design is one you can enjoy for years to come. We also offer you a project completion date and full insurance coverage, and will always arrive to your job site on time and clean it daily. We make it our duty to stand behind our work, and are so confident that you will not experience any issues that we offer you a 5-year, worry free warranty on all workmanship.
Not only will you receive a worry free warranty, you also get the benefit of extremely competitive prices. If you find a contractor who quotes you a lower price than we do, bring us proof and we'll price-match for you. We want to make sure you have the best bathroom around at the most affordable price, with the highest quality craftsmanship available.
Contact Us for a Complimentary Consultation
What are you waiting for? If you have even thought about remodeling your bathroom, now is a great time to get in touch with us for your free, no-obligation consultation. We want to get to know you, and decide if what you are looking for is something we can provide. Our consultation lets us get a feel for your vision and budget, and if we cannot help you then we can happily recommend a variety of options for you to choose from – whether it's another designer, a DIY project or even a bathroom showroom.
We even give you 90 days from the date on your written estimate to make a choice whether or not to use us! Once our designer meets with you at your home and comes up with your floor plan, remodeling idea and estimate, you can either choose to sign a contract then or think about it. But we hope that you will choose to let us remodel your bathroom, and let the fun begin!
We are so excited you are considering a bathroom remodel. Our team is here to guide you through the process, from choosing your flooring and lighting to your fixtures, and create the bathroom or bathrooms that you have always dreamed of having. Whether you are hoping for a timeless look or want something sleek, modern and utterly unique, let the expert team at DES Home Renovations work with you to bring your visions to life. Give us a call today – we cannot wait to hear from you!